(Last Updated On: October 19, 2015)
Thanks to being a part of the Tampa Bay Bloggers and the awesomeness of the PR team at Del Frisco's Grille I had the immense pleasure of getting to dine for lunch at their brand spankin new Tampa location on Wednesday, October 7, 2015! Although they did provide me with loads of free foods to sample and compensated me with a $25 gift card this did not impact my review. All opinions are my own. For my full disclosure policy, please click HERE. Now, onto the review!
Although this was in fact my first time eating lunch at Del Frisco's Grille Tampa I did visit in August to grab a drink. What struck me then as it did again during lunch was the various lighting structures. I'm a sucker for funky lighting fixtures ya'll. I want the red ribbon looking one in my dream bedroom, the ice cube like chandelier in my dream foyer and the other two fixtures somewhere in my future dream home! I loved all of them. Still, I know you aren't here to talk about the lights. You want the scoop on the food. Boy oh boy did we EVER try the food. First, they brought us a bunch of appetizers: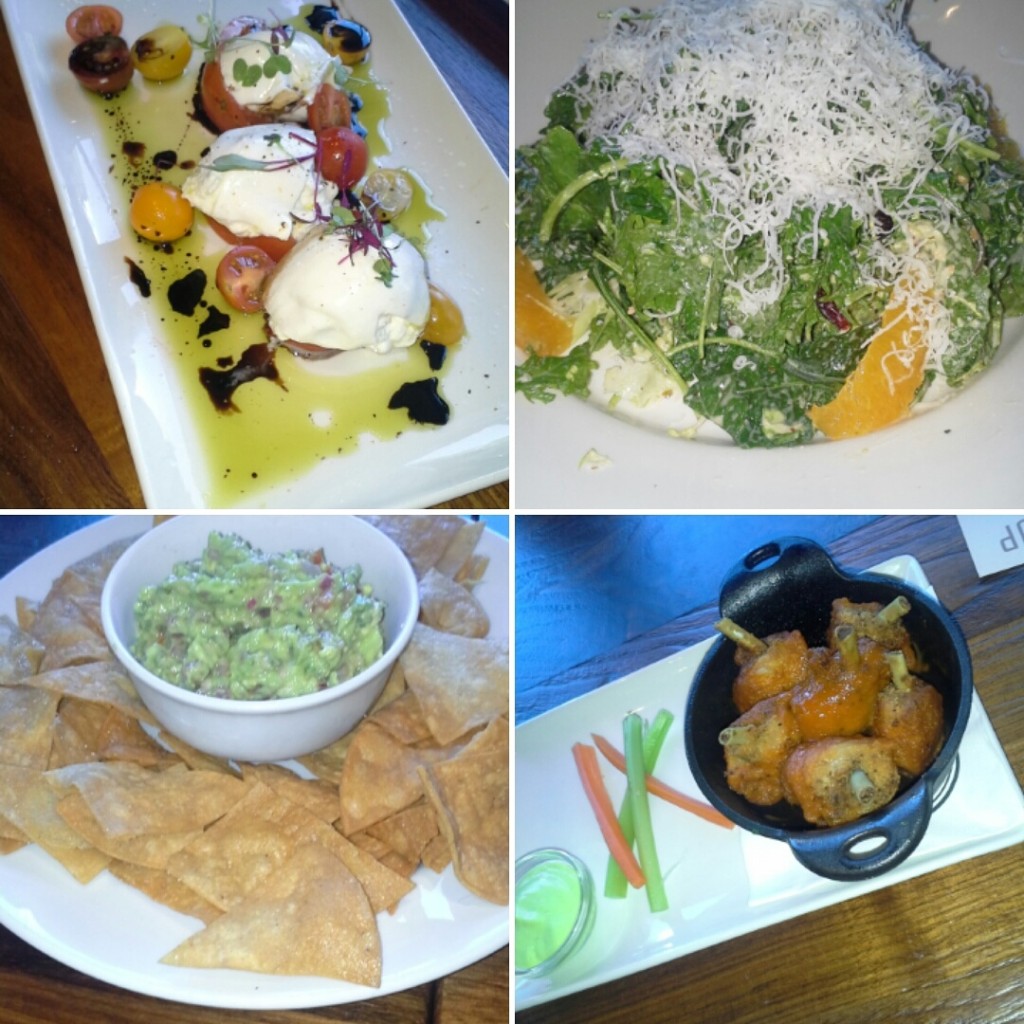 In the top left corner is the Heirloom Tomato & Burrata. I personally didn't wet my pants over this one, although I must say the tomatoes in it were pretty good. The Balsamic Vinegar and Basil Oil were yummy, but the texture of the cheese on top just didn't appeal to me.  The top right corner is the Kale & Brussels Sprouts salad featuring Roasted Almonds, Dried Cranberries, Orange Segments, Shaved Manchego and Creole Mustard Vinaigrette- in full disclosure I'm not a big Kale or Brussels Sprouts fan, but I LOVED this salad. Something about the combo of the ingredients left me not wanting it to end. Bottom left corner is their guacamole. This I did enjoy, but the bowl just didn't make it down to my end of the table quite enough for me to give a thorough enough of a review of it. The bite of it I did have I liked very much. Then, there is the bottom right corner and my favorite appetizer of the meal – the Lollipop Chicken Wings. These buffalo style wings are "mess free" because they are Frenched (i.e. bone sticking out so you have something to hang on to as you dip it in sauce). These yummy nuggets were served with an equally yummy Avocado Ranch Dressing.
Have a drink you want me to try or a product/event/service/place you want me to review?
Contact me HERE! I'm PR friendly!!
We also tried these:

Ah, the Asian Street Tacos featuring BBQ Pork, Pickled Daikon & Carrot, Cucumber, Cilantro and Chiles. I was crazy excited about them, but only somewhat liked them once they were in my mouth. I was so sad that they didn't excite me as much as I had hoped they would. Oh well… onto the main course…or should I say courses…
BOOM:
Top left corner is the Chicken Avocado Wrap featuring Smoked Bacon, Crisp Lettuce, Tomato and Chipotle Aioli. This was good, but not my favorite of the four.  To right corner is the Lamb Burger with Roasted Tomato, Arugula and Tzatziki Sauce – Alas, I got too full to even try this bad boy, but some of my dining mates were drooling buckets over it. My favorite was the Grille Prime Cheeseburger pictured in the bottom left corner with its Double Patties, Lettuce, Red Onion, Tomato, Pickle and Sloppy Sauce – I know… all these choices and my favorite was the most simple of them all. Finally, was the BBQ Pork Bahn Mi featuring Pickled Daikon & Carrot, Cucumber, Cilantro, Chiles and like its similar little brother of an appetizer I wasn't too fond of this.
Then, because our belts needed to be loosened just one more notch, out came dessert. They brought us both a lemon cake and butterscotch pudding topped with salted caramel. I felt mine had too much salt on top, but it was nonetheless quite delicious and I LOVED the presentation in the cute little mason jar. Look at it:
Over all the entire meal left me fully loaded. The staff was friendly and the location was awesome! I would definitely recommend Del Frisco's Grille Tampa for lunch! Can't wait to come back for dinner some time soon too.
Have a drink you want me to try or a product/event/service/place you want me to review?
Contact me HERE! I'm PR friendly!!