(Last Updated On: May 4, 2017)
Thanks to my partnership with The Grand Beauty Spa and Seven Marketing PR, I received a complimentary massage in exchange for a review, and some social media love. Although the massage was free, this has not affected my review in any way. All opinions below are my own.
When I first walked in to The Grand Beauty Spa, the staff greeted me and offered me a beverage. I was pleasantly surprised that one of the beverage options was wine. Although I've been living a semi-dry lifestyle lately, something about slipping into a state of comfort that day made me want a glass of wine. After all as Nanci from This Crazy Life Designs says "wine is a hug in a glass". So I gave myself permission to have one glass, and I gotta say, it felt so nice to be drinking in the middle of a work day, just getting pampered.
I was also given a tour of the facility, and the serenity areas inside and outside easily helped me to forget that I was on a busy street on Kennedy!
Needless to say, it wasn't long before I was feeling all zen like. At last minute I was told that I would be having a male masseuse, and I must say I was a little taken aback by that because I went in expecting that I was going to be massaged by a female. I've never had a man massage me before. So, to be honest I really didn't know what to expect.
One of the things that calmed my nerves right off the bat though, was that my masseuse whose name was Bruce told me he had a couple of rules in his room – I don't remember exactly what all of them were, but I do remember him saying that one of the most important rules was for me to give myself permission to leave the outside world outside of his room and just relax. I know it might sound silly but this actually really helped me to do exactly that – Bruce says RELAX!
Another thing he said was that if he was too rough with his pressure to let him know because he wanted this to be an enjoyable experience, not a painful one. And somehow that reassured me too … The 80 minutes went by really quickly, and I must confess I kept repeating Bruce's words in my head "just give yourself permission to relax."
One of the problems that I often have with getting massages, is that by the end of it I haven't actually fully relaxed. This one however, completely did the job. I can honestly say that I completely forgot that I was sitting on the middle of a very busy street in downtown Tampa. Who knew that a spa on Kennedy Boulevard could give you this level of peace, comfort, and total zen? I would highly recommend getting a massage at The Grand Beauty Spa.
Because I'm all about full disclosure, I do have to say I did have one complaint about my experience at the spa – but only one. When I went to rinse off the lotion from the massage in the ladies locker room, I lost all hot water in the shower after only about 5 minutes. For the life of me I could not get that hot water back 🙁 I twisted that knob every which way I could think of, but basically had to end my rinse with cold water.
Luckily, there's nothing else I can think of that was negative about my experience at The Grand Beauty Spa. It certainly makes me look forward to the day that my blog is making me enough money so that I can regularly get massages like that one. Because let's be honest ladies, self-care and self-pampering just makes us nicer people!
Learn more about #howtograndspa with their offerings here:
Use promotion code: TAMPABLOGGER and mention Famous Ashley Grant to score 10% off the services available at The Grand Spa
MEMBERSHIP AT THE GRAND SPA- Join our Community
The Grand awaits to "Teach You How to Spa" in a Grand way!
The Grand understands the importance of a consistent beauty regime and offers special pricing for Grand Spa Members' monthly visits and treatments with exclusive pricing and exceptional members only events.
All Grand Spa Memberships Include:
Unlimited use of Infra-Red Sauna, team Room and Relaxation areas

Monthly applications of customized Keratase

Shu Uemura Hair Masque with Complimentary Detoxifying Peloid Mud in our Steam Room

Membership pricing on select services

10% discount for Med Spa, Salon and Retail

Monthly Yoga Classes and Grand Goddess Ceremony
MASSAGES
Couples Massage

Hot Stone Massage Grand Spa Wrap, Scrubs and Bath

Deep Tissue Massage

Pre-and post Natal Massage

A shiatsu Oriental bar Therapy

Grand Thai Table Massage

Grand Classic Marine Algae Wrap Detox Treatments
MED SPA
Botox

Fillers

Vitamin B Injections

PRP
BEAUTY SALON
Custom Couture Blow dry & Style

Custom Hair Cut and Style

Special Occasion Hairstyling

Custom Highlights

Hair Color Retouch

Gloss Toner
BRIDAL BEAUTY
Bridal Trial UpDo & Bridal UpDo

Bridal Makeup

Bridal on Location

Grand Manicure & Pedicures

Eyelash Extensions

Grand Make-up Application
SERVICES
Facials
Featuring THALGO the anti-aging specialists offering facials for different ages and anti-aging concerns, all renowned for their incredible results.
For a radiant firmer complexion, our selection of customized facials are perfect for every age. Grand Beauty Spa specialty facials enhance the look of your skin, encourage rejuvenation and reduce the appearance of fine lines.
Innovative masques and serums are used to exfoliate, tighten and revitalize your skin. The Grand offers a comprehensive range of advanced therapies specifically geared to reverse the signs of aging caused by environment, pollution and sun exposure.
MASSAGES
The Grand Massage
Few experiences in life can compare to the benefits of receiving an outstanding massage under the trained hands of a professional massage therapist. While all of our massages help relieve tension, allowing your body to relax and rejuvenate. We offer a therapeutic synergy of Swedish, Thai and Shiatsu massage technologies are tailored to renew and revitalize mind and body-A Grand Exclusive.
Enjoy our elegant and beautifully appointed spa facility including our infrared sauna, steam room and Zen Gardens as part of your Spa experience. Infrared Saunas can be good for health benefits, such as weight loss, relief for sore muscles etc, If you are interested in finding out more about Infrared Saunas, you might want to watch this clearlight infrared sauna review to learn more.
Don't forget! Use promotion code: TAMPABLOGGER and mention Famous Ashley Grant to score 10% off the services available at The Grand Spa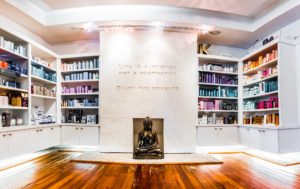 ABOUT GRAND BEAUTY SPA
In the tradition of the finest five-star European spas and salons, the Grand offers spa and salon services from head to toe under one roof. Now celebrating its ten-year anniversary, the Grand has redefined the beauty salon/spa experience taking it to a new level.
At the Grand the latest techniques, treatments, European-trained stylists and skin care specialists provide clients with an unparalleled salon/spa experience. The Grand's team of elite professionals join to provide clients with the ultimate experience. Carmen Sargeant owner of the Grand, has designed The Grand to be an oasis of peace and tranquility, offering cutting-edge beauty and wellness services in a personalized, relaxed and beautiful setting.
ABOUT THE OWNER
Carmen Lee Sargeant
With over 20 years of experience, Carmen not only leads and inspires her salon team, she trains stylists around the country. Carmen teaches and tours with America's top stylists during New York's Spring and Fall Fashion Week. Carmen enjoys sharing her knowledge as an artist with top international teams including Kerastase and the Shu Uemura Artistic teams in New York and LA. (@kerastase_official , @shuartofhair)
Carmen received her training form top celebrity stylists including Martin Parsons, Beth Miniardi, Trevor Sorbie and Kattria Solano. She has also studied with SoHO Academy, Redken 5th Avenue and Shu Uemura Atelier.
Carmen is deeply committed to giving back to her community and volunteers with her husband and three children for numerous charity causes. Carmen's family also enjoys doing pet therapy with their dog visiting local hospitals.
The Grand Promise- Customization
The Grand Beauty Spa recognizes that every guest's face and body are unique. We customize and continually update treatments to meet client's needs and deliver the benefits they seek. No luxury is spared in our quest to create unparalleled results.
Update: The Giveaway has ended
And now, A GIVEAWAY!!!!
This giveaway is being hosted directly by The Grand Beauty Spa. Check out the details they sent me below to learn how you could win a spa day for you and your mom by following their instructions :)
GRAND BEAUTY SPA'S #MYHEROMOM
PRESENTED BY
TAMPA BAY PARENTING
"Some people don't believe in Heroes but they haven't met my Mom"
Nominate your #MYHEROMOM and WIN a Grand Spa Day for Two!
Moms come in many shapes and sizes. There are step-moms, foster moms, adopted moms, grand-moms, teacher-moms and of course Moms. This Mother's Day, we want to celebrate our Hero Moms.
Tell us about your hero mom and why she inspires you: Is it her kind-heartedness? Her bravery? Her selflessness? Her sacrifices? It could be your mom or someone else's mother. Tell us why your #myheromom is so special and you could win a Spa Day for Two from Grand Beauty Spa and Tampa Bay Parenting.
We're certainly not looking for the perfect mom (because none of us are) but we'd love to hear about it! We'll share some of our favorite entries around Mother's Day.
Details:
Answer the questions below and enter an optional story in 300 words or less.
Our panel of judges will pick three winners. The winning Moms and guest will be treated to a Spa day on Saturday, May 13th. The 2 runners-up will each receive a $100 gift card to Grand Beauty Spa. So make it an extra-happy Mother's Day in your house this year, and send in your entry! All five winners will be published on www.grandbeautyspa.com
Please include a photo of yourself and/or your hero mom.
The contest begins April 17th and will run until Monday, May 1st at 10 p.m. (EST). YOU CAN ENTER THE CONTEST DIRECTLY HERE!!!
We will contact the winner(s) by noon on May 5th.
AGAIN – YOU CAN ENTER THE CONTEST DIRECTLY HERE!!!
Save
Save
Save
Save
Save
Save
Save
Save
Save
Save
Save
Save
Save