(Last Updated On: June 2, 2017)
Although I did receive a complimentary ticket because I was a speaker, and I was a brand ambassador, all opinions below are my own.
My third year attending Food Wine Conference was eventful, exciting, emotional and educational. Alliteration aside, I'm so grateful to have had the experiences I did at the 2017 event held at Rosen Shingle Creek in Orlando, Florida. This year's conference was my most fun yet.
Not only was I a speaker on a panel the last day of the conference, but I stepped out of my comfort zone a little and participated in the recipe contests, forced myself to really try and learn something new, and promised myself that no matter what I would stay as positive and open-minded as possible from beginning to end. All of this resulted in one of the most enjoyable weekends I've had so far as a blogger. Here's a recap of all that went down… Okay fine – here's the Reader's Digest version because to go into too much detail would take entirely too much typing, and I know you're busy like me and you want the golden nuggets so you can get back to beating that level of Candy Crush or whatever it was you were doing 😉
Day 1
On the first day, I arrived about an hour early. I checked in, grabbed my Food Wine Conference credentials and swag bag, and proceeded to reunite with as many bloggy friends as possible. Shortly after the conference actually began with the CK Mondavi and Family Welcome Reception
They revealed their new labels, and I sampled a delicious glass of their Pinot Grigio before switching to water and Sprite for the rest of the evening.  I snapped some silly photos at the Photo Booth Fun with Florida Dairy Farmers, and then headed into the Cookbook Exchange room where I stuffed my face with latkes and salmon slathered in Intensity Academy's  yummy Everything Sauce.
Next up was the Taste of Rosen Shingle Creek – in my opinion this year's taste was the best one yet. Look at some of the delicious stuff I got to try:
Strawberry Shortcakes with Beignets instead of Shortcake (ohmigosh good!)
Andouille spoon bread with fried oyster and sweet corn gravy as well as a beef tenderloin baguette served medium-rare with wild mushroom relish
Caprese salad on a stick
Florida Goat Cheese salad with pickled beets, citrus, pecans and palm sugar vinaigrette
And the second most yummy item after the beignet shortcake was the Fried Lasagna. I ate it so fast, I didn't get any decent images of it, but luckily my bloggy friend Caitlyn snapped a great shot here:
Day 2
The day began too early for me, lol. However, when it's conference weekend you put on your big girl panties and get to work! The day started with a delicious all-you-can-eat breakfast buffet at Rosen Shingle Creek's Cafe Osceola. This was the first of many eats for the day. There's no going hungry at Food Wine Con!!!
Next up was the welcoming remarks and The State of Sunday Supper Movement with Family Foodie herself, Isabel Laessig. And right after that Ina Pinkey presented her documentary about her time running and closing a successful restaurant.
After that Dianne Jacob spilled the beans on how to get into the 1% of Accepted Book Proposals, and then it was time for eat number 2.
During our first break Duda Farm Fresh Foods gave all of us a smoothie bowl with celery, spinach, ginger, arugula and mint. What's funny is that most of the bloggers around me, upon reading the ingredients were visibly quite nervous to try this dish. But you know what? As far as a I could tell everyone, including me, loved it. I couldn't believe how well these ingredients came together. Here's the bowl: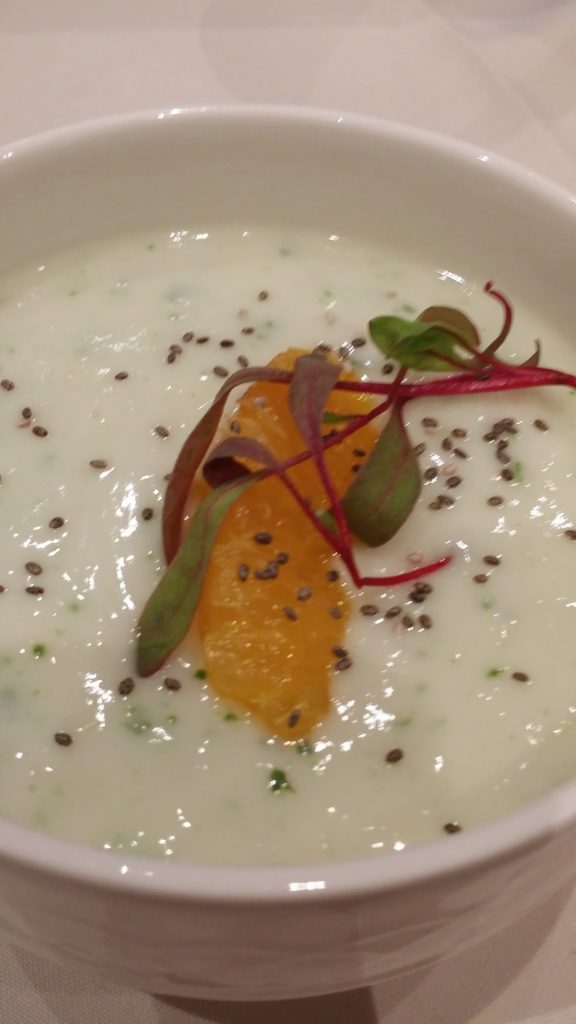 After break we jumped write into another keynote with Amanda Rettke of IamBaker.net where she spoke about Building a powerful Social Media Presence. Dude, this chick has a reach of 28 MILLION on Facebook at the time of this writing. She knows her stuffs ya'll! In fact, just since hearing her talk, a few of my bloggy friends have been implementing the wisdom she was throwing down with awesome results. I need to work more on my own implementations STAT!
The next chat before lunch was about Enjoying your work more – Five Easy Tricks to Time Management with Denise Vivaldo. This girl cracks me up!!! LOVE listening to her talk. And because we weren't all still full from breakfast and break, it was lunch time!
My photos of lunch didn't do it justice, so here's one Food Wine Conference shared:
The lunch we had was a build your own taco bar with Mann's Fresh Vegetables. It was so yummy!!! I piled my plate as a taco salad with all the things.
Once lunch was over we headed back to the main room for a keynote with Peter Horst called A Window to the Chief Marketing Officer's Soul: how to powerfully engage your brand. Then, believe it or not, it was time for ANOTHER eat!!!
Duda Farm Fresh Foods gave us all celery packs with an option of peanut butter or ranch. I ran to the restroom and all the ranch was gone. Those suckers went fast! But, the peanut butter was still pretty good.
Next was a panel featuring, Janice Mondavi, Debbie Lyons-Blythe, Gina Nucci, Kara Sanders and Lance Ham where they chatted on doing your work with passion. I then slipped out of the room missing the Roots & Boots presentation because I wanted to take a nap before dinner.  Needless to say my plans were thwarted by a networking opportunity, but it was a great experience.
Before I knew it it was time for dinner! The main dinner of the Food Wine Conference is always quite the affair, and this year was no exception. We were treated to yummy eats by Certified Angus Beef and the meal was paired with CK Mondavi wines. Again, my photos didn't do the dinner justice, so here's one from bloggy friends Christie Campbell:
Dinner ended and we were directed to the after party hosted by the Florida Strawberry Growers Association – The Strawberry Jam. I was a proud ambassador for the brand, so I got a kick out of taking loads of pictures at the party.
The party them was 50s sock hop, and it was loads of fun. We were treated to Strawberry mocktails and cocktails, cupcakes, candies, and heaps of 50s music. Here are some of the photos of the event:
Although the party wrapped later on, I left early to try to get a good night's sleep for Sunday where I would speak at a blogging conference for the first time! WOOHOO!
Day 3
I overslept when I hit snooze. Whoops! Luckily, I made it in time to hear most of the breakfast keynote speech by the stunning and super fun Dorothea Bozicolona-Volpe. I just love her!!! She spoke on "5 Social Media Strategies to Design Your Personal Brand"
Then, we broke off into different sessions. Some folks left for the Food Service Social Media Bootcamp while others hung out with Florida Dairy Farmers to learn about The Power of Dairy. Next, it was time for breakout sessions where you could go into different classrooms to learn the topic that spoke most to you.
For session 1 I went to the Turning Your Blog or Website Into a Business panel featuring Marisa Langford, April Erhard, Jorge Bravo and Heather Montgomery
For session 2 I took the class on Everything you want to know about Facebook Live!
Next was the InstaFood workshop where we learned quick food styling, photography and video tips from food content creators to help us create posts your customers will happily give their "heart" to.
After that we had lunch and the now famous Hashed Competition. For lunch we indulged in a baked potato bar. Soooo yummy. I covered mine with bacon bits, butter, steak and I don't even recall what else. But trust me, it was good!
During the Hashed competition each table was turned into a team competing for the win. We had to take ingredients on the table and create a cocktail. Although we didn't win, our team had loads of fun. Here's what we came up with:
Finally it was time for my panel to speak. The panel I came up with was Using your Blogging Skills to Get Paid. The idea for it came from the fact that so many bloggy friends of mine are getting frustrated with the monetization thing, and wishing they could make more money to keep blogging. So, I along with my bloggy friends Caitlyn Connolly, Tracy Shaw and Lori Moreno shared how we make money because we're bloggers, but necessarily directly from our blogs.
I must say, it was pretty cool speaking at a conference! I thoroughly enjoyed it, and am excited to share that I'll be speaking at another one in September. More details on that soon. By the end of my talk the entire weekend caught up with me, but unfortunately I couldn't stick around to relax. I had to immediately rush home to take care of some ghostwriting work which meant that my panel was the end of my Food Wine Con fun…
All in all, the entire weekend was a remarkable experience. I loved so much of it, and can't believe it's already over. If you're a blogger that does anything with food and/or wine, I highly recommend you consider attending next year.
Thank you to all of the sponsors who made this weekend possible. Thank you Isabel for believing in me enough to trust me to run a panel. I'm just so overwhelmed with gratitude right now, and can't wait to see where my blogging career takes me next!
Save
Save
Save
Save