I received an invitation from the Tampa Bay Bloggers and Hyde Park Village to skip Black Friday this year in favor of shopping small on Small Business Saturday on Saturday, November, 28, 2015. (Although they did offer me free mimosas and breakfast from Piquant, lunch at BarTaco and a gift card incentive for my promotional efforts, all the opinions in this post are my own.) Needless to say, the idea of getting up at the ASH crack of dawn to try and save money on, well, anything, doesn't really appeal to me anymore- so, I jumped at the chance to come to skip the crowds and early morning doorbusters in favor of something local. Here's a recap of how my shopping adventure went:
The day began innocently enough with yummy mimosas and bite-sized treats you see above at Piquant. For the record, their pumpkin French toast was amazing as it sounds like it would be. The mimosas were not just orange juice and champagne either. Oh no, Piquant is classier than that ya'll! They had three options. Now, I'm going to screw it up but I'm pretty sure they were raspberry, mango and passion fruit. Whatever they were, they tasted great! Next, it was off to the stores. I had the pleasure of spending my day with the awesomeness that is Caitlyn Connolly of Live Sweat Sleep and Raffi Darrow of Runningbetty.com. These chicks, pictured below, are so kick ASH and I'm thrilled I got to hang with them for a day.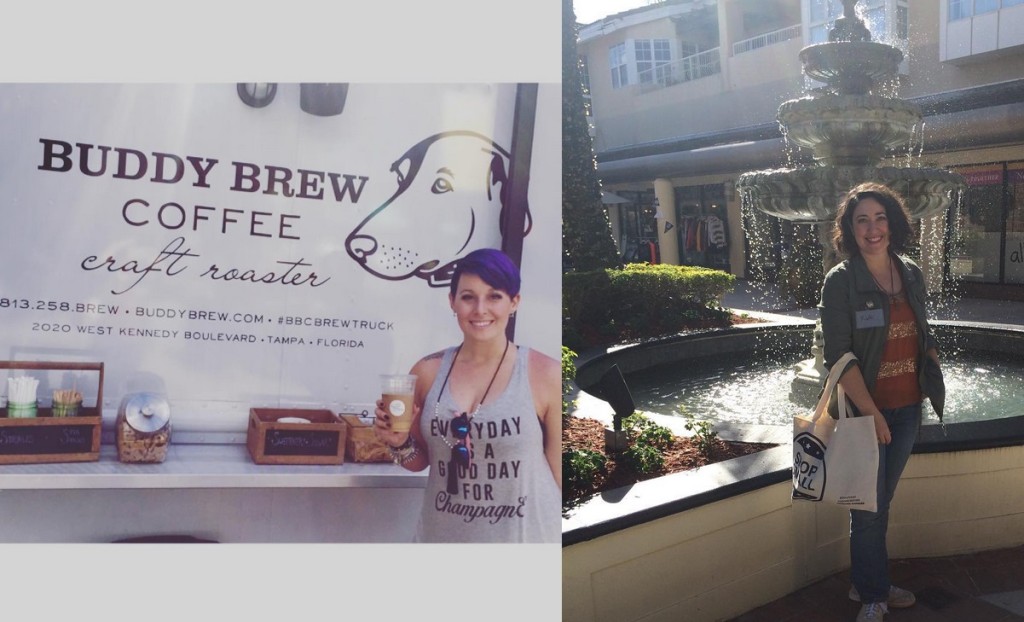 We went to soooooooooooo many stores, but my favorite stops were Don Me Now, Paper Source  and lululemon. Don Me Now had the coolest notecards of ever:
lululemon made me want to up my 2016 fitness goals:
Paper Source had the cutest all the things:
We also listened to some sweet local musack while I sipped on my first ever Buddy Brew coffee. Let me tell ya'll, I'm not big on coffee, but that there Buddy Brew sure was slurp worthy- soooo yummy.
Finally, after more perusing of shops, Caitlyn and I finished the day at Bar Taco where I stuffed my face with a margarita and three itty bitty tacos and guacamole with the biggest tortilla chips I've ever seen. (Sorry you missed this deliciousness Raffi!!!) I had the baja fish, the pork belly and the sesame ribeye tacos. Of the three, my fave was the pork belly. nomnomnom!!! So good!!
Overall, the day was a smashing success. We shopped, we chatted, we listened to great music, we had a blast! Best part? No crazy crowds and we were able to stay very chill the entire day. Screw shopping stress!!! At the end of the day I only had a couple of purchases to my name, but definitely had lots of ideas for gifts that I want to give. It truly is better to shop local. I had so much fun and I think the day definitely proved that Small Biz Saturday > Black Friday!!! Oh, and a few days later – Hyde Park Village gave me the cutest ornament EVER to hang on my tree:

It's a camera! They know me so well. I'm a writer too and it just so happens they also gave me some nice pens and a 2016 calendar!!! Huge thanks to the village for one of the best shopping experiences I've ever had and thanks to Tampa Bay Bloggers for the invite as well. When the opportunity for Small Biz Saturday comes up once more next year, I'll definitely choose it again over that pesky outdated Black Friday!