EEEEK! It's here! It's here, and I'm so stinkin' excited. This is post NUMBER ONE in my Bloggy Friends Spotlight Series!!! (Wanna be in on this -fill out the form here!)
The plan I have for this series is simple – gather up my Bloggy Friends (ones I'm already friends with and/or want to be friends with), and then every week spotlight one, or two or five of them depending on how many responses I get. Well, today's post is on the very first Bloggy Friend – Nanci Cernak. Nanci blogs at This Crazy Life of Mine. and she's got a SAHWEEEET Etsy shop over here which you GOTTA check out too!
Check out her deets:
Name: Nanci Cernak
Your Blog: This Crazy Life of Mine
What Type of Blog is It? Health – Fitness – Lifestyle
Do you post on WordPress, Blogger or Something else?  WordPress
What's your main niche? Lifestyle
Is your blog making you money? If yes, full time income, part time income, or some random play money? Random play money but I want more!!
Side Note from Famous Ashley –
Dear Universe, please help Nanci make a crap ton of money from her blog. Her site and Etsy store is frikkin awesome, and she deserves a boat load of cash. That is all.
With love and gratitude,
Famous Ashley Grant
Okay back to Nanci!!!
How did you get started?
I wanted a place to write out my thoughts after losing my dad.
What are your must have tools to run your blog?
Laptop, cell phone
What advice would you give to someone just starting their blog?
Just be YOU!
Where can we find you on social? Twitter, Instagram, and Facebook
If you had it to do over, is there anything you would have done differently?
Nope!
Who do you consider your Bloggy mentors?
Caitlyn of Live Sweat Sleep and Katy Widrick
When you have a blogging question, where is the first place you go for the answer?
Tampa Bay Bloggers
What are your plans for the future of your blog ?
Keep it! Make it grow!
Is there anything you would like to add that you think people should know?
I also have an Etsy store… I love to design things. And I just want to be me.
How awesome is Nanci???
I for one think Nanci is pretty damn awesome, and I'm thrilled a fellow Tampa Bay Blogger was my first Bloggy Friend to be spotlighted in this series. In the coming weeks, months, all eternity, I'm looking forward to spotlighting even more of my Bloggy Friends!!! And, as I mentioned at the top, if you wanna be in on this -fill out the form here!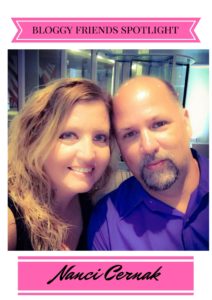 Stay tuned for our next Bloggy Friends Spotlight! Until next time, may your page views be high, and your blogs be monetized. Big virtual hugs Bloggy Friends 😀
Save
Save
Save
Save