Anyone who knows me, knows I'm a sucker for a fun craft project. Though this post is sponsored by Citrus Magic, the ideas, opinions and images below are my own. Check it out!


I wanted to do an upcycle project, because I love, love, LOVE taking something that would ordinarily be garbage and transforming it into something super fun! I've been looking at my Citrus Magic Solid Air Fresheners since I got them, and have been thinking about the fun things I could do with the white containers once the product inside had dried up and the containers were ready to be thrown away.
Inspiration suddenly struck while I was watching videos on Youtube about how to decorate for Halloween. Pumpkins! Yes! That's what these sexy containers would be transformed into. And, so I went to Wal-Mart and bought orange and black acrylic paint, and waited until my Citrus Magic Solid Air Fresheners were ready to swap out for new ones.
I confess, I got a little impatient, lol. Me? Impatient? No! YES!!!!! So – instead of waiting, I went ahead and played with three of them that weren't quite finished, and the fourth one that was. Haha!
I took the three that weren't done and painted the exterior orange, and the one that was finished – I painted it black inside and out. Here's what it looked like with a single coat of paint:
I noticed some white splotches after the dried, so I gave all the containers another coat of paint and let them dry completely again before moving onto the next step.
For the orange ones, I simply painted pumpkin faces on them like this: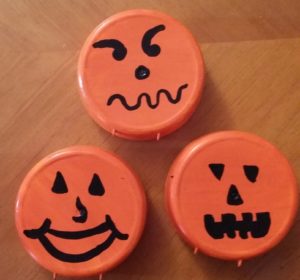 The black one though… I got extra creative with that one. I took the top of it off, and using an X-acto knife cut out the center ridges so I would have an opening to stuff something into. I had some black webbing and some orange spiders from last Halloween, so I did this:
How fun is that?!? I just adore how these upcycled crafts came out, and feel like with a little creativity there are so many things we can do with items that would normally just go in the recycle bin. I can't wait to share my ideas for upcycling the jars from my Citrus Magic candles!!! Spoiler alert – it's also Halloween themed! Until next time friends, may your crafts be creative, and your messes be minimal.
Have a product you want me to try or review? 
Contact me HERE! I'm PR friendly ?
This post may contain a link to an affiliate. See my disclosure policy for more information.