On June 11, 2016 I had the amazing opportunity to check out bd's Mongolian Grill in Lakeland, Fla. Although they gave me and my husband a free meal, and gave me $25 to give away on my site, this did not impact my review. All opinions are my own.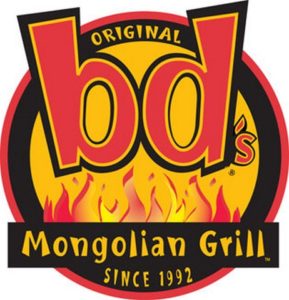 I was already planning on coming to Lakeland on June 11 for the Florida Festival of Flavor & Fire at the Lakeland Center. So, when bd's reached out and asked if I would be interested in checking out their restaurant I jumped at the chance! I invited my father-in-law and my husband and off we went to Lakeland to stuff our faces with yummy foods.
Around noon on that Saturday we stopped by bd's and since we had a reservation we were seated right away. Speaking of which… I highly recommend a reservation if you plan on stopping by Friday or Saturday evening for dinner or for lunch on Saturday or Sunday.
After looking over the menu both my husband and I agreed that the best value would be the unlimited create your own bowls which included unlimited bowls of stir-fry and unlimited salad and unlimited soup from their homemade soup bar. This option is served with your choice of white or brown rice, flour tortillas or lettuce wraps.
I almost immediately went for green peppers, onions, white rice, steak, pork and a variety of spices.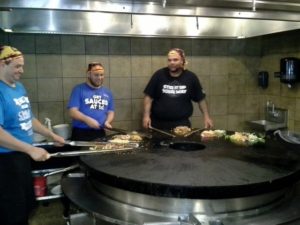 After I chose what I wanted I walked over to the largest wok I've EVER seen where the fab staff cooked up my goodies and then delivered it:
As they cooked they sang funny parodies and entertained the crowd and delivered my meal to me with a smile. So fun! I took a video of the fun singing, but unfortunately, in true #bloggerfail form accidentally deleted it while I instagrammed the images of my experience…sigh…
Of course, at this point the pictures stopped while I stuffed my face just enough to leave room for a second helping.
The best part? If you're not 100% sure what to order, there are cards at the front of the salad and meat bars that give you recipes that can help you decide what to put on your plate for the staff to cook up:
Check out the recipes, pick your favorite and order up! Then, once you have tried it, go back for round two.
You can stack your plate as high as you want as long as it won't fall on the floor. LOL! Then, head back to the wok and have it cooked up again!
My only complaint? The room we sat in had too many tables in chairs. My group repeatedly complained about how little wiggle room there was and whether or not this was a fire code violation. Nonetheless, all of us enjoyed what we ate thoroughly!
Sadly, the weekend we went the beer and wine license had not yet been approved, so we didn't get to try their adult beverages. Then again, this was probably for the best since it was only stop 1 of 2 for our Lakeland adventures.
Bottom line: Lunch at bd's Mongolian is a fabulous value, and if you leave hungry you did something wrong. I highly recommend eating here. If I'm ever in Lakeland again, you can bet I'll be eating at bd's once more! It was so good!!!
Save