If you love pork, you'll surely love this recipe for oriental glazed pork. This succulent pork in a sweet and tangy fresh-tasting sauce is in a league of its own. It's like having your favorite pork barbecue only better. Serve this with riced cauliflower, veggie noodles, or stir fried veggies, and you'll surely be everyone's best friend.
How To Make Oriental Glazed Pork
This post may contain affiliate links that provides this blog with a small commission if you purchase through them, at no additional cost to you. Thanks for your support!
Ingredients You'll Need:
• 2 pounds pork with the bone left in (best cuts to use are shoulder or pork legs)
• 1 ounce piece of fresh ginger root, sliced thinly
• ½ cup soy sauce
• 1 tablespoon vegetable oil
• ½ cup vinegar (cane vinegar or white wine vinegar works well)
• 2/3 cup water
• 1/3 cup brown sugar
• 2-3 pieces star anise
Instructions – Let's Cook Up Some Juicy Glazed Pork!
1. Wash the pork pieces and place in an unheated heavy bottom pan with 1 tablespoon of cooking oil. Turn up the heat to medium-high and sear the pork pieces until some parts are fully browned. This technique gives the finished dish so much flavor!
2. Once the pork has been seared, add in the ginger slices and allow the ginger to infuse with the oil for about a minute.
3. Then add the soy sauce.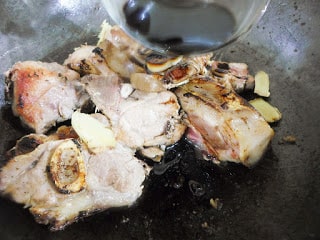 4. Followed by the water.
5. Next add the vinegar. Cover and cook on medium heat until only about half a cup of the liquid remains.
6. Add in the sugar and star anise.
Make sure the sugar gets dissolved in the sauce. Coat the pork pieces with this mixture and then cover.
Simmer for about 2 to 3 minutes until you can really smell the aromatic flavor of the star anise.
7. The finished dish will be glossy, delicious, and oh-so-tempting!
8. Serve with plenty of vegetables. This dish is good for 4 to 6 generous servings.
Check out a couple of my other recipes: