Are you curious about how to recruit a friend in FFXIV? I'm sharing all you need to know about the FFXIV recruit a friend campaign in this post!
As of late, I've become pretty obsessed with Final Fantasy 14, better known as FFXIV. What can I say? IYKYK!
Naturally, this new found obsession has me wanting to recruit friends to join me in game because it's more fun with other people! That's why I'm so excited to have learned about the FFXIV Recruit A Friend campaign.
Basically, the way it works, is you're given an FFXIV recruit a friend code, and if your friend uses it you get perks, and they do too!
Recruit a Friend FFXIV Rewards – For You (The Recruiter)
At the time of this writing, you get different rewards based on the number of recruits.
First recruit rewards are: 5 Gold Chocobo Feathers and the emote "Fist Bump"
Rewards for subsequent recruits: 5 additional Gold Chocobo Feathers for each additional friend. This is capped at 5 friends, however meaning you can only get up to 25 additional feathers for newly recruited friends.
These two rewards are considered FFXIV free trial recruit a friend rewards because you as the recruiter can receive them while your new recruits are playing in the 30 day free trial.
Where the real fun comes in is when your newly recruited friends stick around after their free trial ends. When they pay for a subscription, you get more rewards.
At 30 days: If your friend stays subscribed for 30 days as a paid subscriber, you get a Friendship Circlet and an Aetheryte Pendulum. The Friendship Circlet gives you an additional 20% EXP if you're level 25 or lower. The Aetheryte Pendulum allows you to teleport to the Aetheryte that is closest to "New Adventurers" you have on your friend list for free.
At 90 days (approx. 3 months): If your friend stays subscribed for 90 days as a paid subscriber, you get a "Draught Chocobo Whistle" that allows you to summon a Draught Chocobo which can hold you and an additional player that is in your party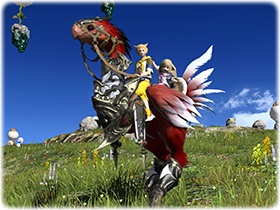 At 150 days (approx. 5 months): If your friend stays subscribed for 150 days as a paid subscriber, you get 5 additional Gold Chocobo Feathers
At 210 days (approx. 7 months): If your friend stays subscribed for 210 days as a paid subscriber, you get 5 more Gold Chocobo Feathers
At 270 days (approx. 9 months): If your friend stays subscribed for 270 days as a paid subscriber, you get your final set of 5 Gold Chocobo Feathers
What's the Big Deal About FFXIV Gold Chocobo Feathers?
The reason everyone wants these Gold Chocobo Feathers so badly, is they can be traded in for items you can't get anywhere else in the game. One of the most coveted items is the Twintania Neurolink Key which summons the Twintania mount. It's bad ass, and why I'm trying to find recruits of my own. Want to try the game? I'd love for you to hit me up in the DMs on Twitter, and I will send you a recruitment code 😉
Other items you can exchange Gold Chocobo Feathers for are:
10 Aetheryte tickets
Rare Dyes
Amber Draught Chocobo Whistle to summon a Draught Chocobo mount
Managarm Horn to summon a Managarm mount
Recruit a Friend FFXIV Rewards – For Your Friends
Your friend will need to purchase a paid 30 day subscriber to get the following rewards:
The Friendship Circlet which gives them an additional 20% EXP while they are level 25 or lower
99 free Aetheryte tickets to travel anywhere in the game that is unlocked
The fist bump emote, and
10 Silver Chocobo Feathers
How to Recruit a Friend FFXIV
There are two ways to recruit a friend that I have found – and both require you log into your Square Enix Account "Mog Station". On the Account Services homepage, you will start by clicking the image that says "Recruit a Friend" which will then redirect you to the recruitment page where you're given the two options. The first is to email your unique recruitment code, and the other is to send it through "Line." You can only generate a recruitment code once every three hours, and each recruitment code can only be used once. Recruitment codes remain valid for 120 days once generated.
If you have a friend you want to recruit to the game, I would suggest copying your "FFXIV recruit a friend code" that is generated, and pasting and saving it in a safe place because you can not access it again if you leave the page. This actually happened to me when I was trying to generate a friend code. I couldn't remember what it was, and tried to go back to the page, but received an error message that looks like this:
So, I had to wait three hours before I could generate a new code and invite them later. Three hours is a LONG time when all you want to do is get down to gaming!
Where to Add an FFXIV Recruit a Friend Code
When your friend is signing up, they will enter it in the Mog Station by clicking "Enter Recruitment Code" under the "Your Account Tab" in the "Registration Codes" section. Note, while you can enjoy the free trial without paying, you will not have access to many of the features that paid users have. For example, you won't be able to use private messaging, shop at the in-game marketboard, hire retainers, join a Free Company, trade with players, and so on.
You might be wondering, with all the restrictions, why should you try the game for free? It's a great way to try it before you buy it! There are a lot of games out there, and there's nothing worse than spending $20, $30, or $60 only to find you don't like how the game works. When you take advantage of the free trial, you can see how the game play feels, what the world looks like, and see if it's the right game for you.
Want to try the game? I'd love for you to hit me up in the DMs on Twitter, and I will send you a recruitment code 😉
* Header image source