Bloggy Friends Spotlight NUMBER 2!!! Thanks everyone for all the retweets, Facebook likes and re-pins of my last spotlight on Nanci. I've been overjoyed at the response to this new series, and I'm LOVING the answers that have been coming in from other potential spotlight candidates. You gals and guys are all doing such amazing things in the blogosphere, and I'm thrilled to be sharing your awesomeness.  (Wanna be in on this -fill out the form here!)
Alright, enough touchy, feely stuffs. Onto this bloggy friend. I'm happy to share it's the beauty and the brains behind Having Fun Saving & Cooking (one of my favoritest blogs of EVAR!!!!) – Tracy Shaw. (woohoo, and the crowd goes wild!!!)
Check out her deets:
Name: Tracy Shaw
Your blog: Having Fun Saving & Cooking
Can you tell me about your blog? It's a lifestyle blog with easy recipes, smoothies, some Florida Travel and fitness tips! On the site you'll also find savings for everything to do with your family – whether it saving you from figuring out what is for dinner tonight, saving you from deciding what to do this weekend, or saving you time.
Do you post on WordPress, Blogger or Something else? WordPress
What's your niche? Lifestyle
Is your blog making you money? Yes, part time income
How did you get started? I was at the doctor's office with my daughter and I was thinking that I needed to figure out a way to help other's save money and give myself an outlet.  I read the cover of a magazine and it said "How to start a Mom Blog."  End of story 🙂
What are your must have tools to run your blog? Smart phone, laptop, camera…will travel!
What advice would you give to someone just starting their blog? It's a LOT of work, don't expect to become a millionaire overnight.  Or at all!
Where can we find you on social?
Facebook
Twitter
Instagram
If you had it to do over, is there anything you would have done differently?
I would have started Pinterest way earlier than I did!
Famous Ashley Grant here to interrupt and bring you a PRO TIP: Pinterest can help you get a LOT more traffic to your blog. Create a blog board on your own Pinterest profile and load it with pins of your blog posts. You can title the board with your blog title as well. It's important to use great SEO strategies as well, because unlike Facebook and Instagram, Pinterest is like a big search engine. The more optimized your pins, the easier they will be to find online.
Back to Tracy!
Who do you consider your bloggy mentors?
I started so long ago!  Many aren't blogging anyway, but now – I have a group of people that I depend on and love!
When you have a blogging question, where is the first place you go for the answer?
Bloggy Friends! (Okay, another interruption from Famous Ashley Grant – my blog, get over it – I LOVE THIS ANSWER!!! And not just because it's the name of the series. LOL! I truly believe that bloggers helping other bloggers is the BEST way for us all to get our page views up, and be more successful.)
What are your plans for the future of your blog?
I take it day by day…..
Is there anything you would like to add that you think people should know?
Enjoy every minute of it, SHARE with friends, and realize that as much as you put in – you will get out.
I love Tracy and her website!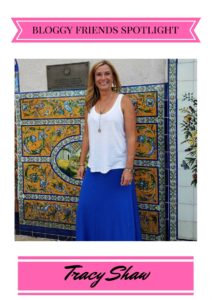 I am so grateful to know Tracy. She has been a wonderful mentor and bloggy friend to me. As the folks in my home state of Kentucky would say – she sure is good people. Love you Tracy, and I for one am soooooo glad you created Having Fun Saving & Cooking! Who wouldn't love learning how to save money on, well, everything?!?
Did you miss the last Bloggy Friends Spotlight on Nanci Cernak? If so, I forgive you because you can still check it out HERE!
Don't forget – I'd love to profile you too, so if you wanna be in on this -fill out the form here!
Stay tuned for our next Bloggy Friends Spotlight! Until next time, may your page views be high, and your blogs be monetized. Big virtual hugs Bloggy Friends ?
Save
Save
Save
Save
Save